2020-09-25
Ordering a skip to your home with Simply Waste Solutions couldn't be easier. As our name suggests we like to keep things simple. Just fill in the order form above and we'll take care of the rest. Once your order has been placed one of our friendly team will be in touch to collect payment and confirm your details.
Size Guide
4 Yard Skip
Capacity



45–55 Black Bags

Dimensions



H0.97 x L1.83 x W1.29M
Price



£150.00 EXC VAT
£180.00 INC VAT
6 Yard Skip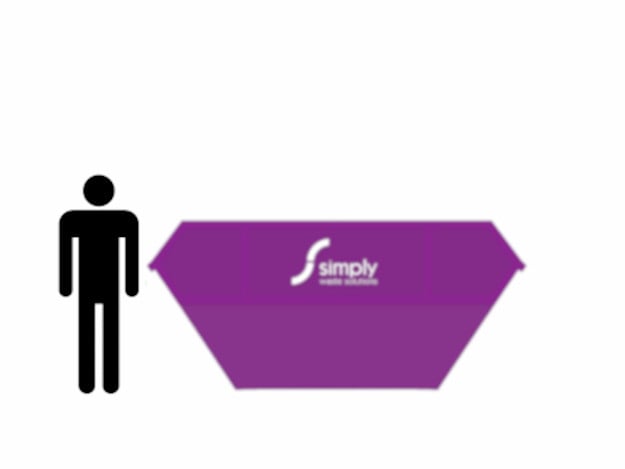 Capacity



65-70 Black Bags

Dimensions



H1.22 x L2.6 x W1.52M
Price



£183.33 EXC VAT
£220.00 INC VAT
8 Yard Skip

Capacity



70-80 Black Bags

Dimensions



H1.22 x L3.66 x W1.68M
Price



£208.33 EXC VAT
£250.00 INC VAT
12 Yard Skip

Capacity



110-120 Black Bags

Dimensions



H1.68 x L3.7 x W1.78M
Price



£291.67 EXC VAT
£350.00 INC VAT
Why are you guys so much cheaper than others?
At Simply Skips, our mission is to make skip hire easy and affordable. Our customers pay a cheap up-front price which includes a weight limit that is fair. Our prices are between 10-20% cheaper than the competition! Over 95% of our customers stay well within the allocated weight limit. This means, that like a low-cost airline, you only pay for what you need. Other Skip Companies will often make more money on the lighter skips and less money on the heavy ones, but everyone pays the same – we don't think that is fair. Not only that, if your skip does come in a little overweight, then we only charge you for what you dispose of (in blocks of 100kgs). Furthermore, and as part of our "Fair Price Policy" we will never charge any customer for more than 1 tonne of extra weight (or 1.5 tonnes on a 12 yard skip). This means, you will always be sure of the maximum you would pay.
Length of Hire
The hire period includes 10 days hire. If you require it for longer, we can accommodate that for a surcharge of £18 for an extra 7 days.
Waste Acceptance Criteria
At Simply Skips, we require the waste description on the above form to match what we collect – it is important that it does. It must not contain the prohibited items listed below;
Tyres
Paints/Paint Cans
CRT Monitors/TV
Asbestos
Clinical or Offensive Waste
Solvents
Liquids
Oil
Batteries
Plasterboard
Hazardous Waste
Toxic Waste
Radioactive Waste
Gas Cylinders
Mattresses
We may be able to help with these items if you do have some that need disposing of. Please contact us with your requirements
Fair Price Policy
At Simply Skips we believe in fairness. When you order a skip, we will give you as much information as you need. There will be no "hidden" charges. We are up front about the fact that our prices have a weight limit. That weight limit is based on years of experience and over 95% of our customers will never pay any kind of excess weight charge and only pay the published price. Based on market research conducted in April 2020, our prices were between 10 and 20% cheaper than the competition! Customers that do have extra waste will only pay £18 per 100kgs or part thereof and the maximum additional charge will be capped at 1000 KGS for our 4,6 and 8 Yard skips and 1500kgs for our largest 12 yard skip – this is an extra £180 for the 4, 6 and 8 Yard skips and £270 for our larger 12 yard skip. Customers with any additional charges will always be sent a weight ticket to prove the weight of the skip.
Not the service you're looking for? Try out our: