We're proud and delighted to announce that Simply Waste Solutions has been named in the prestigious '1000 Companies to Inspire Europe' report.
The report, compiled by the London Stock Exchange, is a celebration of high-growth and dynamic small and medium-sized businesses (SMEs) across Europe. The value that small to medium-sized businesses brings to the UK economy cannot be understated. SMEs are responsible for two-thirds of all jobs and 60 per cent of value-added to the business economy. We are proud to be at the forefront of Europe's SMEs adding to the economy and creating jobs.
Our inclusion in this report represents an incredible achievement, with Simply Waste being one of just 170 SMEs from the UK and only 20 companies from Environmental Services throughout Europe named in the 2017 report.
James Capel, Simply Waste Solutions CEO and founder commented: "Our formula for growth is no secret; honest pricing, great customer service and a motivated workforce. In the last five years, we have trebled our turnover, increased our staff by nearly 180 per cent and almost doubled our fleet of vehicles".
This achievement builds on previous recognition for Simply, having been included in the 2016 '1000 Companies to Inspire Great Britain' report.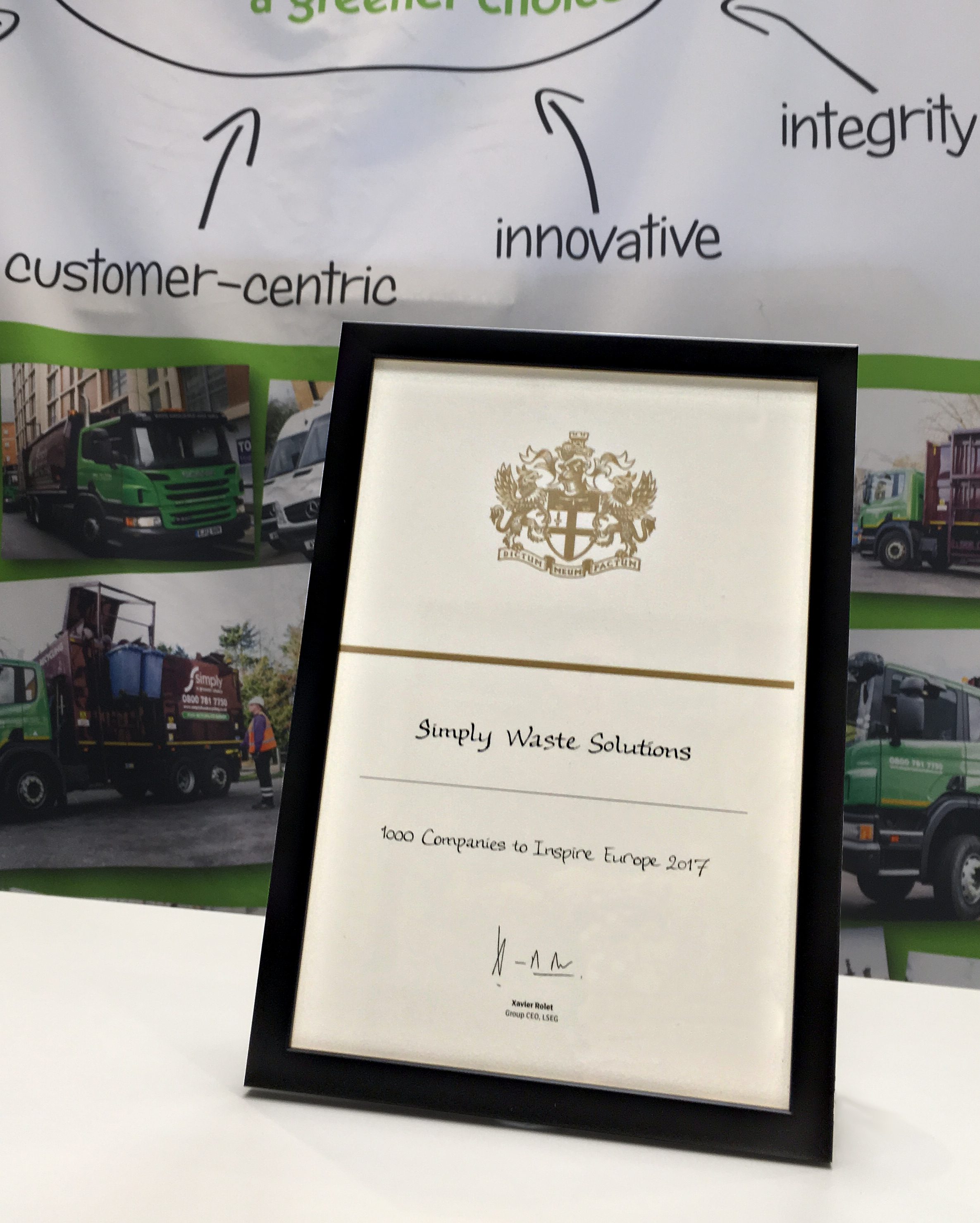 Certificate for 1000 Companies to Inspire Europe 2017
To reward their consistently high standard of work, two of our employees, James O'Keeffe and Georgia Bell, joined James Capel to celebrate our success alongside the other inspirational companies for the report launch at the European Parliament in Brussels.
James concluded:
"I am convinced that over the next decade, it will be entrepreneurial SMEs, like ourselves, that will be responsible for creating real economic growth and jobs. Through ambition, and by continually challenging the status quo, we aim to maintain this level of growth, which can only be good for jobs in the local economy."
From very humble beginnings just over a decade ago, Simply Waste Solutions has grown, from a 2 truck start-up to a company with an annual turnover of almost £25million. We look forward to continuing our growth and success within the waste industry.