This month Simply Cups teamed up with Network Rail and Interserve at London Paddington station as part of their Sustainable Station Green Day 2018.
Simply Cups attended to raise awareness of the disposable cup scheme and promote recycling. Simply Cups are the UK's only collection and recycling service dedicated to turning paper and plastic cups into second-life materials.
Whilst there we asked commuters and travellers if they had heard of the 'Latte Levy' and if it would put them off buying coffee on the go?
The proposed tax was mentioned at the beginning of January by The Environmental Audit Committee, to introduce a 25p tax on disposable cups across the UK. As of yet, there's been no mention of where the levy will go and who it might benefit.
67% of the people asked had heard of the 'Latte Levy' and 68% said that it wouldn't put them off buying a coffee on the go. 27% said it would put them off and 5% said that it might prevent them from buying a coffee.
There were lots of people who were carrying around a reusable cup which was great to see, but the number of people that didn't know that their coffee cups couldn't go in normal recycling but are actually recyclable was an eye-opener. It quickly became clear that more awareness is needed around this topic. There were mixed responses to the 'Latte Levy', the 68% who said it wouldn't put them off because;
I expense my coffee
I would still need to buy my coffee
It's difficult to carry a reusable cup around, especially when travelling
Reusable cups need to be more portable
The levy is daft and misses the point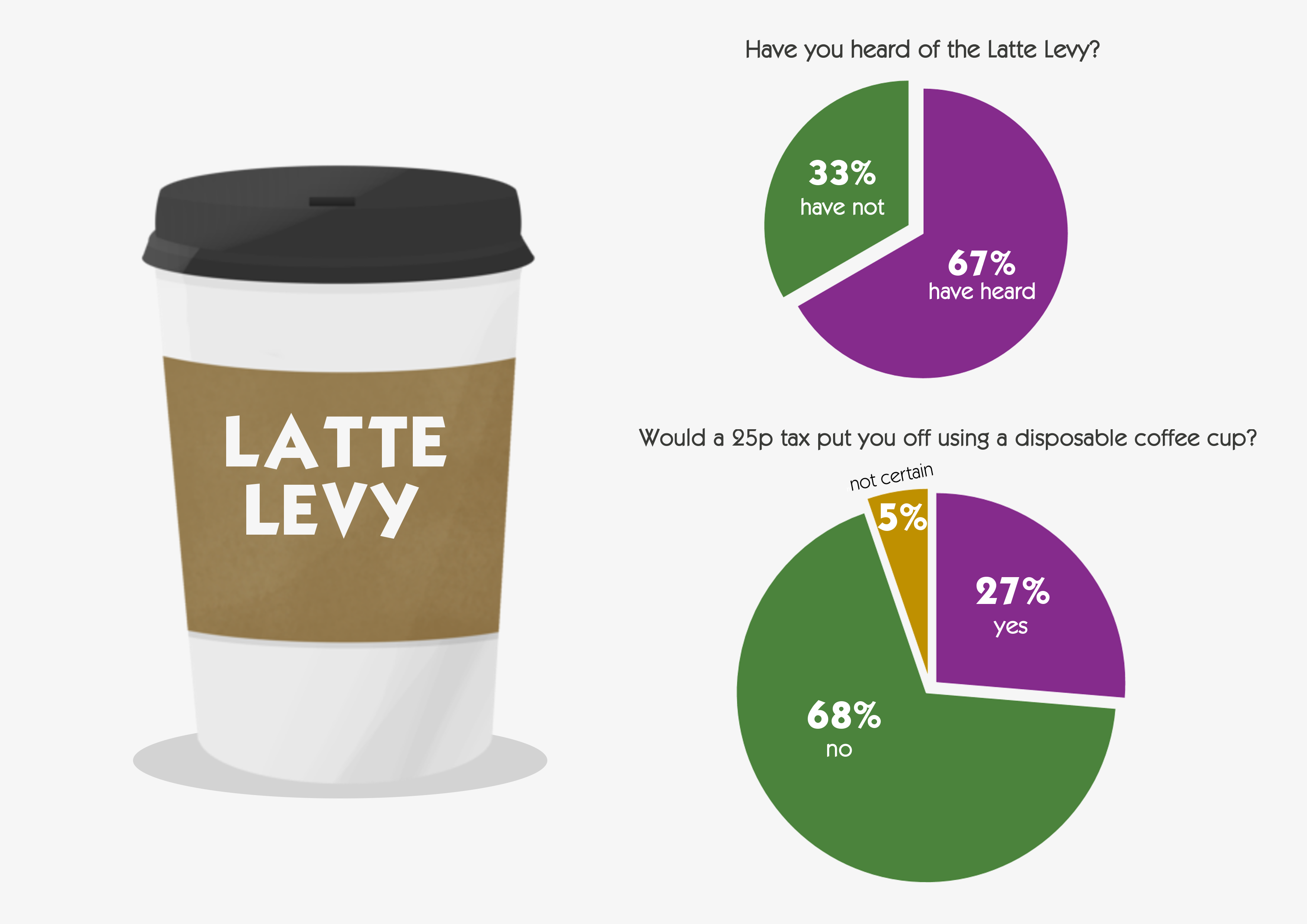 Click to enlarge image
However, the 27% of people that would be put off buying coffee on the go said that if the 5p bag charge helped, this should help too, it would encourage them to buy a reusable cup and that they would just wait to have a coffee at the office or have it in rather than take away.
The 5% of people who said that it might put them off said they would think more about if they really needed it or maybe they would reduce the number of take away coffees they had a day.
There was a mixed response to the levy and it's clear that more research needs to be done into if it would actually prevent people already buying an expensive on the go item, or is there a better option. Also, where would the tax go? Towards the recycling of the cups? Simply Cups can collect these cups for recycling for less than a penny a cup and turn them into different useful products.
If you would like to find out more about Simply Cups or would like your business to get involved visit the website http://www.simplycups.co.uk, call 08081 688 787 or email info@simplycups.co.uk.
Find out more about the Latte Levy by clicking here.