Quick Quote
Save up to 20%!
Our WEEE Waste Services
WEEE waste collections are arranged on a wait and load service which includes office equipment such as computers, phones, monitors etc. This could also include regular electrical items such as kettles, toasters and microwaves.
Why Choose Simply Waste Solutions?
We are a Zero to Landfill waste management company. That means that we choose the greenest and most economically viable solutions for our customers waste and never consign waste to large holes in the ground! Did you know that we can help your business to recycle your WEEE (Waste Electrical and Electronic Equipment) Waste items which can include; office electrical items such as: computers, phones and monitors; kitchen items such as: kettles and toasters or any other type of electrical item.
What happens to your
WEEE Waste?
Our WEEE collections are completed on a wait and load service and comply with all the legal requirements of the WEEE Directive as well as the legal obligations for producers of electrical and electronic equipment (EEE).
After your electrical waste has been collected the items are taken to an approved treatment facility for safe disposal. This guarantees that any recycling and final disposal is done in accordance with WEEE regulations. This usually takes 7-10 days to be completed. We aim to recycle and reuse as much of the resources as possible.
For any electrical items that might contain sensitive data such as laptops or mobiles, we can provide certificates of destruction from the disposal site. As with all our collections, we offer transparent collections and a full audit trail.
Contain your data with Data Pod
What is the Data Pod?
"Data disposal you can trust"
The Data Pod holds and stores electronic equipment that contains sensitive data, which helps your business to stay GDPR compliant.
The steps are simple; receive it, fill it, complete the inventory sheet, secure it and arrange collection.
This will then be handled and collected by us within 6 working days, and taken to a dedicated WEEE Plant. After the contents have been destroyed you will receive a certificate of destruction. Your Data Pod will then be sent back to you, waiting to be filled again.
To read more information about the Data Pod, please click here. Please contact us to receive a quote for your Data Pod.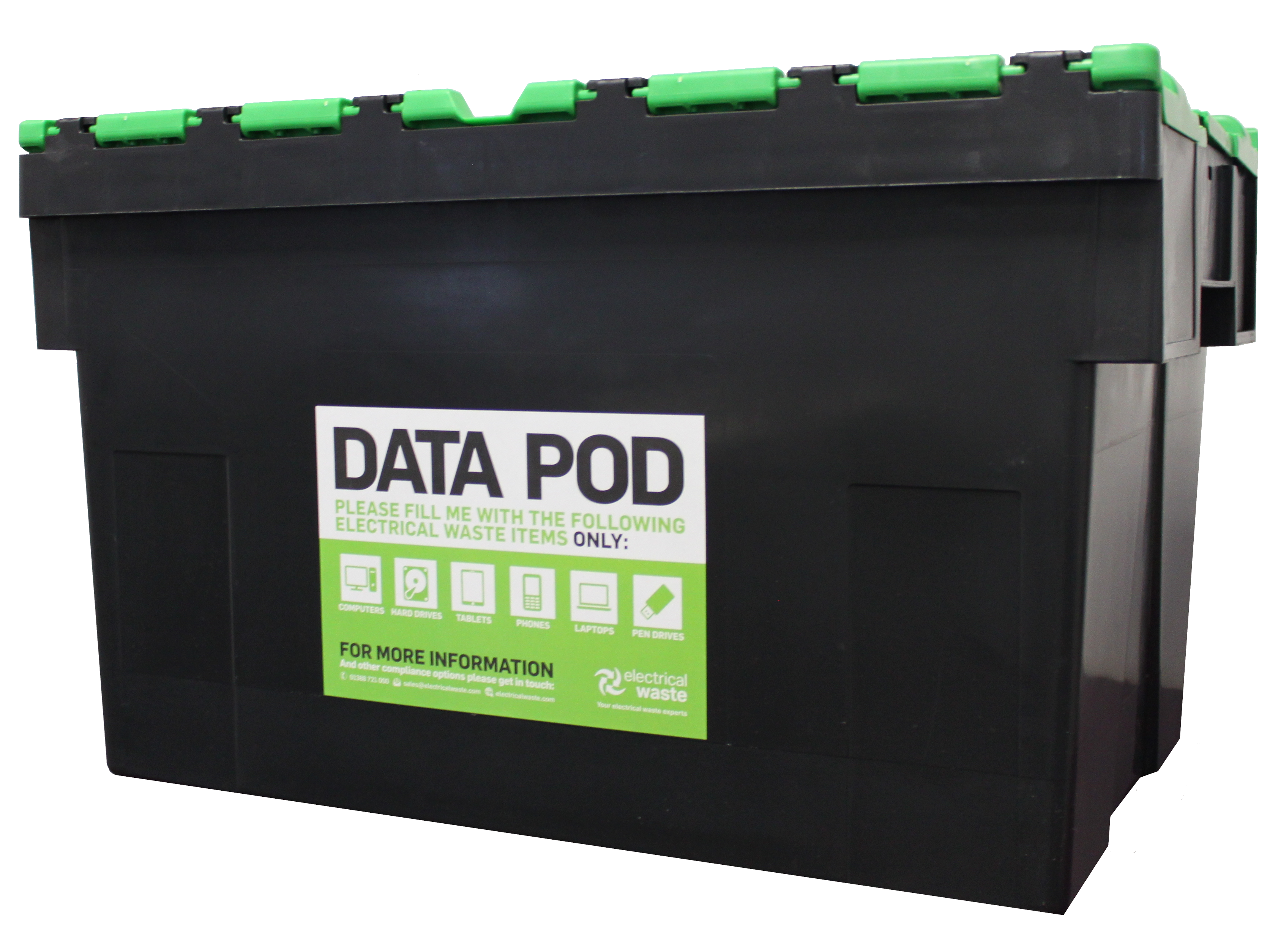 WEEE Waste Collection Types
Here are the collection types we can offer for your WEEE waste items;