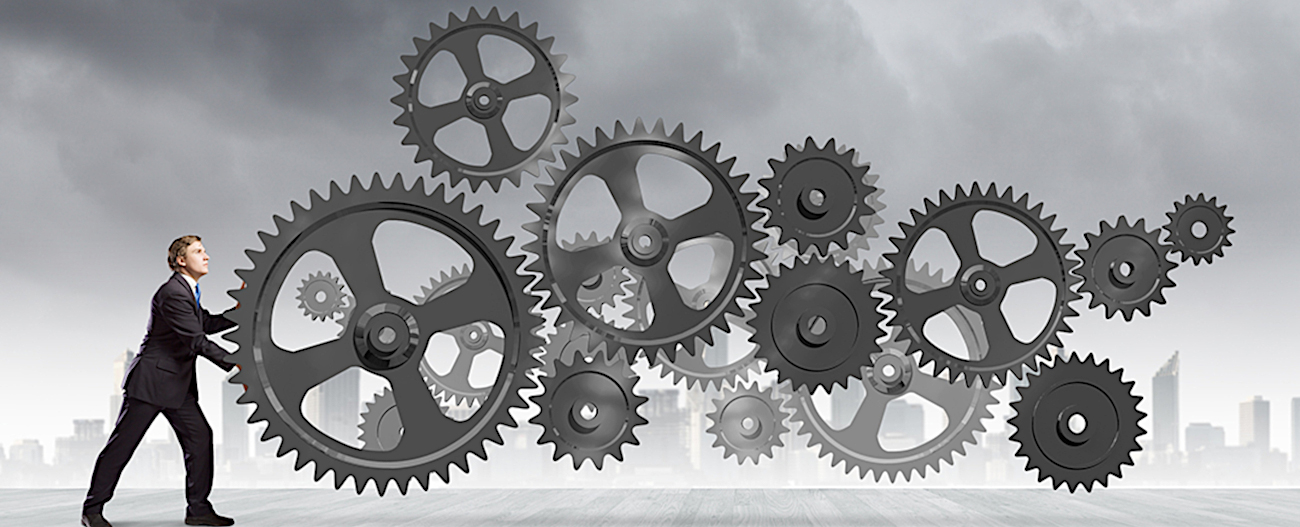 At Simply Waste Solutions we are committed to ensuring that each of our customer contracts run smoothly from day one, and this means spending time and resources to understand your needs and requirements well before the contract start date. This is extremely important for larger, multi-site customers with diverse waste streams and perhaps where each location may require a more tailored approach.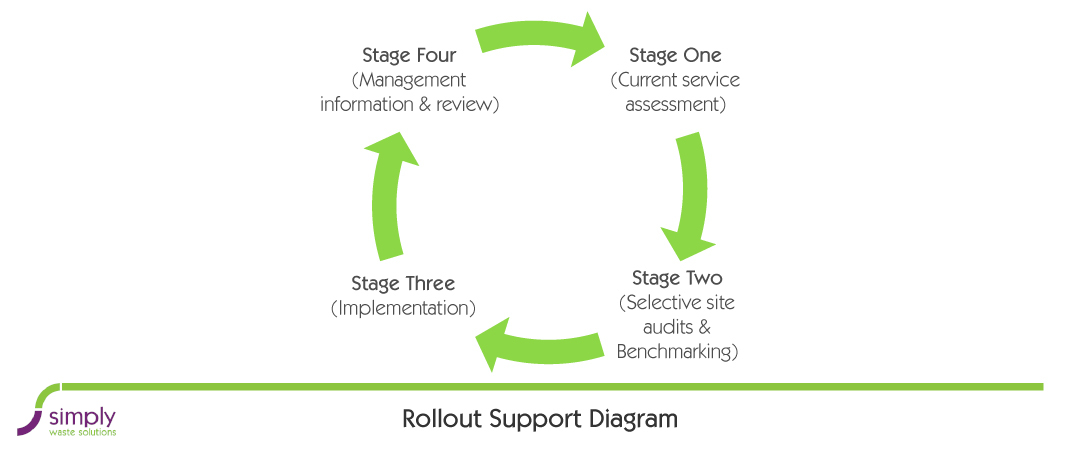 Stage One – Current Service Assessment
The first stage of the process is to review and assess the current services in place. This allows us to understand your existing operation in full, establish where we may be able to deliver 'quick wins' and begin the process, if applicable, of standardising services across the estate. In nearly all cases, we find that many customers have sites that are oversubscribed with containers, have the wrong type of services in place (i.e. more general waste than recycling) and limited recycling.
Stage Two – Selective Site Audits & Benchmarking
Carrying out selective site audits will play an important part in delivering a change to the current services in place and ensure that the client will benefit from an 'Optimised Service' going forward.
We will also conduct full waste audits at certain sites which will involve an in-depth review, together with key client personnel, at each location and include a review of the following waste streams:
Residual Waste (General Waste)
Dry Recyclables (Cardboard, Paper, Glass, Plastics and Cans)
Food
Clinical & Hazardous Waste
Confidential Waste
Garden and grounds maintenance waste
Redundant furniture, carpet and equipment
WEEE
Cooking oil and grease traps
All audits will include a visual assessment of the waste streams in order to identify what can be recycled – this will be supported by photographs. An audit report will be created for each site breaking down all services in place and where changes can be made to deliver cost savings, reducing waste, diverting as much waste away from landfill and increase recycling.
Stage Three – Implementation
On completion of the site audits, we will propose an 'Optimised' menu of services to roll out. This will typically encompass improvements to your current service with the focus on service rationalisation, an increase in recycling containers and a reduction in general waste containers.
Many waste companies rely on a 'one solution fits all' type proposal, i.e. a standard set of containers and services to fit all sites across the UK. In our experience, however, flexibility is needed to accommodate the diverse types of customers, their locations, access and storage, operational requirements and needs. Although the key objectives across your estate would be the same, such as waste minimisation, greater recycling and cost reduction, the service will vary and remain flexible at all times. This is something that Simply Waste Solutions deliver on a regular basis as working with our Approved Partner Network ensures that all services are customer-led rather than, in many cases with national suppliers, operationally led.
Stage Four – Management Information & Review
Ongoing review of Management Information and the 'Optimised' services in place will play a major factor in ensuring that you continue to maximise savings and that improving recycling rates are meeting your expectations. Throughout the duration of the contract, we are also committed to identifying further operational improvements that will deliver additional cost and environmental benefits.
Managing Expectations
By switching to Simply Waste Solutions we are certain that you will receive a more responsive, flexible and cost-effective waste management service that will help you improve your own operational effectiveness. We also know that one of the biggest worries customers have, when changing waste contractors, is the smoothness of transition process, ensuring that this is seamless with no visible impact on the day-to-day running of their businesses.
For this reason, we are committed to fully understand upfront your specific waste challenges as well as your operational objectives. 'Simply' and 'Solutions' are part of our company name for a reason; we only provide rational, honest and well-thought-through services that help you become more efficient at what you do best.
Having spent time auditing your business, we will work with you to model how the service will operate in advance of the switchover date so that, when the contract starts, there will be no unwelcome surprises.
We know we're not perfect and from time to time the service we provide might fall below expectations – even if this is out of our control. We are, though, fully committed to rectifying any problems, so you're not disadvantaged, and putting in place controls to limit any re-occurrence.